CocoResidenceVillaSlider2
ADAARAN CLUB RANNALHI
Adaaran Club Rannalhi sits exclusively at the tip of the South Male atoll within the exotic collection of islands known as the Maldives. Its unique location offers access to pristine beaches, excellent scuba diving opportunities and a relaxed environment with easy access to the capital city of Male. The resorts vicinity to Male allows it.
AMARI HAVODDA MALDIVES
Few places are still secluded, left untouched and completely exotic. Few places will let you truly get far away, disconnect, leave it behind, relax and unwind. Cast yourself to somewhere private, where powder soft sand caresses the beach, where hidden turquoise lagoons are home to breathtaking reefs, where elegant yet naturally simplistic beach.
AMAYA RESORT & SPA KUDA RAH
The finest South Ari Atoll Resort Overlooking the inviting white sandy beaches of South Ari Atoll sits the exotic beauty of Amaya Kuda Rah in the Maldive Islands. We offer you a pristine beach, a variety of scuba diving opportunities, and of course the best of Maldivian hospitality. Bringing you the finest in relaxation and.
ANANTARA DHIGU RESORT & SPA MALDIVES
Anantara Dhigu Resort & Spa Maldives welcomes you to discover a tropical paradise island. Wake up to soothing views of the endless deep blue Indian Ocean. Take a morning plunge in the gentle waters of a turquoise lagoon directly from your over water villa. Kayak to Guli Fushi island at the edge of the lagoon.
ANANTARA KIHAVAH MALDIVES VILLAS
Sapphire turns to clear aquamarine, white sands ensconcing a heart of verdant green.Step onto a hidden paradise in the Maldives, an island of timeless natural beauty. At Anantara Kihavah Villas, indulge in a state of blissful decadence, with a private pool villa or residence Spend lazy days swinging over the water.
ANANTARA VELI RESORT & SPA MALDIVES
Experience an island paradise of chic simplicity in a charming tropical setting replete with soft white sand and azure waters at Anantara Veli Resort & Spa. Relax with a loved one in our over water bungalows as a spectacular selection of sea life swims beneath you. Dive into an array of water sports in the.
ANGSANA RESORT & SPA IHURU
One of the most picturesque islands in the Indian Ocean, Ihuru is an exquisite tropical paradise waiting to be discovered. Blessed with palm-fringed beaches, crystal clear waters and pristine house reefs, the eco and guest-friendly retreat is located on the North Malé Atoll, just 20 minutes by speedboat from Malé. Blending splendid villa living, holistic.
ANGSANA RESORT & SPA VELAVARU
Begin with a love affair filled with twilight memories and seaside passion in the heavenly Velavaru or 'Turtle Island'. Accessible by a 40-minute seaplane ride from Malé International Airport, this 79-villa resort is located on the immaculate South Nilandhe Atoll. An abundance of sea life adds to the unspoilt beauty of the area.
ATMOSPHERE KANIFUSHI MALDIVES
Amidst an expansive lagoon of turquoise hues surrounded by a long uninterrupted stretch of pristine white sandy beaches; Atmosphere Kanifushi opened its doors to the world on 15th December 2013. Atmosphere Kanifushi Maldives offers a uniquely exclusive Premium All-Inclusive holiday plan – Platinum Plus, whereby enhancing the typical 5-star Maldivian resort experience and going that.
BAGLIONI RESORT MALDIVES
Baglioni Resort Maldives – This is just one of the unique experiences that await you at the Baglioni Resort Maldives. Dreamily resplendent on the island of Maagau in Dhaalu atoll, a 40-minute hop by seaplane from the capital, Malé, this remarkable resort is awash with tropical natural beauty. Come visit one of the Maldives' top luxury resorts.
BANYAN TREE VABBINFARU
Banyan Tree Vabbinfaru has received several awards since its founding in 1995. Recognised for its superior comfort and seclusion, it has steadily increased its foothold in the minds of those seeking the ideal beach getaway. Each award-winning villa is uniquely designed to reflect the spiral of a seashell. The understated elegance of the conical thatched-roof.
CANAREEF RESORT MALDIVES
Step Out of the Blue' and explore our island for a breath taking yet refreshing take on The Maldives. A definite treat for your senses, Canareef Resort Maldives is a lifestyle resort get-away that will take your breath away with our pristine nature, expansive oceans, 25 dive site locations, dolphins and marine life, stunning horizon.
CENTARA GRAND ISLAND RESORT & SPA MALDIVES
Set amongst the perfect islands and blue ocean of South Ari Atoll (Alifu Atoll) in the republic of Maldives, Centara Grand Island Resort & Spa Maldives delivers a unique 5 star resort experience and offers the ultimate in barefoot luxury along with a range of exciting activities that will appeal both to couples and families.
CHEVAL BLANC RANDHELI
cheval blanc randheli maldives – Bathing in the turquoise waters of the preserved Noonu atoll, cheval blanc randheli will open its doors in a secluded lagoon located 40 minutes north from malé by seaplane. Set on five islands with natural lush exotic vegetation, will offer a rare experience of exclusive privacy.
COCO PALM BODU HITHI
Located on the island of Bodu Hithi in North Malé Atoll, only 40 minutes by speed boat from Male International Airport, Coco Palm Bodu Hithi is an island paradise in an enchanting setting, where contemporary creature comforts blend stylishly with Maldivian themes. On this idyllic island, surrounded by turquoise waters and ringed by white sandy.
COCO PALM DHUNI KOLHU
Located on Dhuni Kolhu Island in Baa Atoll, 124km from Malé airport, Coco Palm Dhuni Kolhu captures tropical magic in abundance, beautifully balancing the island's bountiful vegetation with the resort's architectural charisma. Coco Palm Dhuni Kolhu's setting is pure magic: surrounded by a lagoon of bright turquoise water and coral banks, fringed by white sandy beaches and richly covered with indigenous vegetation. Its 98 villas, featuring authentic thatched roofs.
CONSTANCE HALAVELI MALDIVES
Floating in the North Ari atoll and shaped like a curved Dhoni (Maldivian boat) is the five star Constance Halaveli Resort. It is a place where time seems to have stopped and dreams become reality. Water and sand combine and lie in contrast to the exuberant green of the foliage. 
CONSTANCE MOOFUSHI RESORT
Constance Moofushi Maldives is situated on the South Ari Atoll and is widely regarded as one of the best diving spots in the world. The Resort combines the Crusoe Chic Barefoot elegance of a deluxe resort with the highest standards of Constance Hotels and Resorts.
DHIGUFARU ISLAND RESORT
Nestled on the protected UNESCO Biosphere Reserve of Baa Atoll, Dhigufaru Island meaning "a long reef", is the epitome of what you would imagine as an exotic getaway. Whether you like to kick back, relax & take in the magnificent, stunning beauty of the island and surrounding reef, or if you are looking for.
DRIFT THELU VELIGA RETREAT MALDIVES
Spanning just over a hectare in size, Drift Thelu Veliga Retreat Maldives  is an untouched island that promises white sandy beaches and plush vegetation. Surrounded by a turquoise lagoon, this private island is a throwback to a much simpler time. Here, nature never fails to captivate as you discover a wonderland of thriving marine life.
DUSIT THANI MALDIVES
Dusit Thani Maldives blends graceful Thai hospitality with the unparalleled luxury setting of destination Maldives. Encircled by white sandy beaches, a rich house reef and turquoise lagoon, our resort on Mudhdhoo Island is just 35 minutes by seaplane from the capital Malé and 10 minutes by speedboat from the new domestic airport in Baa Atoll.
EMERALD MALDIVES RESORT & SPA
Emerald Maldives Maldives Resort & Spa – emerald maldives resort is a new 5-star Deluxe All-Inclusive Resort, a proud member of The Leading Hotels of the World. Built to blend in perfect harmony with the surrounding environment, using materials such as bamboo, natural stones and Langhi Langhi leaves and a direct focus on energy efficiency.
EQUATOR VILLAGE
Equator Village is, one of the best-value diving resorts in the country. The low room rates and the all-inclusive packages they come with make this a great deal. Staying here also gives you the unique opportunity to see something of 'normal life' in the Maldives, as it is connected to several inhabited islands by a causeway.
FAARUFUSHI MALDIVES
Faarufushi Maldives – Faarufushi  is small coral island, big-time beauty. All the things you want from a luxury Maldives resort – turquoise lagoon, white sand beaches, discreet service. The sleek overwater villas that dissolve into the horizon.
FINOLHU
Finolhu Maldives – Finolhu bubble – A true one-of-a-kind resort where the glamorous charm and style of a former era can be enjoyed today. A vibrant new era of classic travel. We have looked to the past to uncover the future of travel. Bringing a timeless sense of style to the pristine lagoons and rich.
FOUR SEASONS RESORT MALDIVES AT KUDA HURAA
Four Seasons Resort Maldives at Kuda Huraa is a vibrant garden island with all the charm and intimacy of a traditional Maldivian village; just 25 minutes from the airport. Adopt an entire ocean lifestyle at the Resort's 'Tropicsurf' Surf School. Sail by dhoni to The Island Spa – the only spa in the Maldives.
FOUR SEASONS RESORT MALDIVES AT LANDAA GIRAAVARU
Discover a more intense experience of nature at this remote island resort in the pristine Baa Atoll, a UNESCO World Biosphere Reserve. Flanked by flawless white beaches and a two-kilometre lagoon, the island's 44-acre jungle interior hides vast accommodation compounds and four isolated restaurants, inviting a real sense of discovery. Snorkel with turtles.
FURAVERI ISLAND RESORT
Furaveri Resort – Furaveri Island Resort & Spa offers a truly Maldivian holiday for our guests, it is the perfect getaway offering an unmatched experience for individuals, couples and families. Whether you are an adventurer seeking the underwater experience, an explorer looking for a remote exotic island or a fishing enthusiast ready for the big.
FUSHIFARU MALDIVES
Fushifaru Maldives –  Fushifaru, On the north eastern edge of Faadhippolhu (Lhaviyani atoll) sits this exquisite little island between two channels connecting the atoll's inner lagoon to the outer sea. A large sand bank lies on one side. Vibrant and mysterious sea creatures swim around in a small triangle connecting three of the most distinctive.
GILI LANKAN FUSHI
Gili Lankanfushi™, Maldives is an intimate coral island in a sparkling lagoon, with jetties threading across the water out to spacious villa accommodations. Everywhere you look, marine life abounds. And the gleaming waters beckon. Formerly known as Soneva Gili by Six Senses, Gili Lankanfushi™ is set on the private island of Lankanfushi in the North.
HIDEAWAY BEACH RESORT & SPA DHONAKULHI, MALDIVES
Welcome to our exclusive world for those who seek ultimate luxury and privacy. The Hideaway Beach Resort and Spa is located on the virgin islands of Dhonakulhu, North Maldives. A tropical sanctuary between between skies and sand, welcoming the first guests in 2005. Hideaway Beach is one the few resort in Haa- Alifu Atoll, 
HOLIDAY INN RESORT KANDOOMA MALDIVES
Kandooma Maldives – Holiday Inn Resort Kandooma, lies just 35 km south of the Male International Airport, via a forty minute speedboat ride to the South Male Atoll. 13 hectares in area, It is named after the Kandoo tree which is found in abundance on the island. For guests arriving late at night, the resort.
HURAWALHI ISLAND RESORT
Huravelhi – Huravelhi resort, set on an enchanting private island in the pristine Lhaviyani  Atoll in the Maldives, Hurawalhi Island Resort is much like your relationship: it is a perfect match of serenity and excitement, comfort and adventure; it stirs up your every atom with an intricate blend of intimacy and thrill.
HUVAFENFUSHI
Immersed in surreal beauty in a private courtyard onshore. "Rooms" at sea – a traditional Maldivian dhoni, fitted with modern indulgences.Cuisine in the raw. Private dining experiences. A stretch of private beach or 1001 nights boudoir chic. Bespoke cruises. Reef journeys. Floating at infinity's edge. Thousands of bottles in the Maldives' most impressively stocked cave, guided.
INNAHURA MALDIVES RESORT
Innahura resort – Innahura's formula for making your holiday in the Maldives fabulous is straightforward: we take the quintessential sun, sea and sand elements, add a traditional twist to modern facilities and round it up with a generous dose of authentic experiences. This unpretentious gem in the south-east Lhaviyani Atoll tempts sun seekers, young and young.
JA MANAFARU
North of Male, amidst the dazzling turquoise waters of Haa Alif, the northernmost atoll of the Maldives, lies Beach House Iruveli. Flawless white sands. Deep emerald foliage. Purity of nature. We are enchanted at first sight. Here, we have immersed ourselves in sophisticated.
JUMEIRAH DHEVANAFUSHI
The resort is hidden away on the southern end of the Maldives, on the Gaafu Alifu Atoll. Get a bird's eye view of this incredibly country as you fly over islands on a 55-minute domestic flight from Male to arrive at the Kaadedhdhoo Airport. Arrive at the resort by a 20-minute speed boat ride.
JUMEIRAH VITTAVELI
Location l A short 20-minute boat ride from Male International Airport transports you to this serene island resort escape. Located on the South Male atoll, this is a luxury getaway within easy reach. Here you'll uncover vast stretches of white sandy beaches and clear waters, forming an exquisite image for you to gaze upon, as you let the slow pleasures.
JW MARRIOTT MALDIVES RESORT & SPA
JW Marriott Maldives – Nurturing enriching experiences that are authentic, inspiring and comfortable, JW Marriott Maldives Resort & Spa offers unrivaled luxury in the stunning Indian Ocean. This 5-star luxury beach resort in the Maldives is an ideal destination for guests seeking to be fully present, nourished and reconnected.
KANDIMA MALDIVES
Kandima Maldives – Kandima welcome to a place where (almost) everything is possible and boredom simply does not exist! Even the public areas and spaces around the resort invite people to meet, interact and socialize, or simply unwind. Kandima Maldives is much more than just a holiday, it's a lifestyle! This game-changing destination definitely has.
KANDOLHU MALDIVES
Ringed by an intricate yet stunning coral garden, teeming with colourful reef fish, Kandolhu Island is a patch of paradise hidden in the North Ari Atoll of the Maldives. Intimate and bare, this tiny gem is encircled with wide beaches that are veiled by the emerald green ocean that Maldives is known for. This magical sanctuary.
KUDADOO PRIVATE ISLAND MALDIVES
Kudadoo private island – Embracing all hallmarks of luxurious living, Kudadoo Maldives Private Island holds the promise of the very best in escapism. Affording you the luxury of time, space and unhindered connections, this refuge for the soul is bound to impress even the most discerning traveller with its all-encompassing  experience – at Kudadoo.
KUDAFUSHI RESORT & SPA MALDIVES
Kudafushi Resort – A "Kuda" light-filled gem in an infinite ocean of life, where the green of nature meets the crystal clear water while the white coral beach defines the border.A small paradise to live and feel the real vibrations of nature in a warm and friendly atmosphere. Kuda Fushi Resort & Spa Maldives focuses.
LILY BEACH RESORT & SPA
The waves of the shimmering ocean crash gently against the beach. The cares of everyday life disappear like the footprints in the snow-white sand. The elongated Maldives island of Huvahendhoo houses a luxurious paradise that draws its visitors into a sensual world of wellbeing. Since 2009 Lily Beach Resort & Spa has been the soul.
LUX* NORTH MALE ATOLL
LUX* North – Introducing an entirely new level in stand-out luxury, this is the Maldives… elevated. Early 2019, we'll unveil LUX* North Male Atoll – an era-shaping resort that sweeps away the thatched-roofed Maldivian footprint of old with a dazzling paradise of penthouse villas and spectacularly designed spaces to play, relax and retreat. A short transfer from Male.
LUX* SOUTH ARI ATOLL
Whether seeking a peaceful hideaway or active adventure, the picture-perfect island of Dhidhoofinolhu is home to LUX* South Ari Atoll, a luxury resort where your fantasy of a laid-back, desert island paradise is about to come true. Here, you'll discover 193 private villas, dotted at the water's edge along two miles of powder fine beaches.
MAAFUSHIVARU MALDIVES
With its small island charm, lush vegetation surrounded by powder-white so sand, and a house reef that a myriad of tropical fish call home, the island is just about 350 metres in length and can be walked in just 10 minutes and a bit! Thatch-roofed villas inspired by local architecture are set amidst verdant gardens.
MALAHINI KUDA BANDOS
At Malahini we strive to create a casual environment where both our travelers and crew feel a sense of belonging. With a vibrant crew ready to go the extra mile to make Malahini the ideal place for good vibes, we are always on the lookout for quirky and creative ideas that make everyone's happy.
MEDHUFUSHI ISLAND RESORT
Welcome to Medhufushi, a naturally quiet, serene, authentic Maldivian island. After a short seaplane journey, step onto the white sandy beaches, which are surrounded by a crystal clear lagoon. Our staff are here to tend to your every need and we are confident that after your stay you will take away memories of a truly…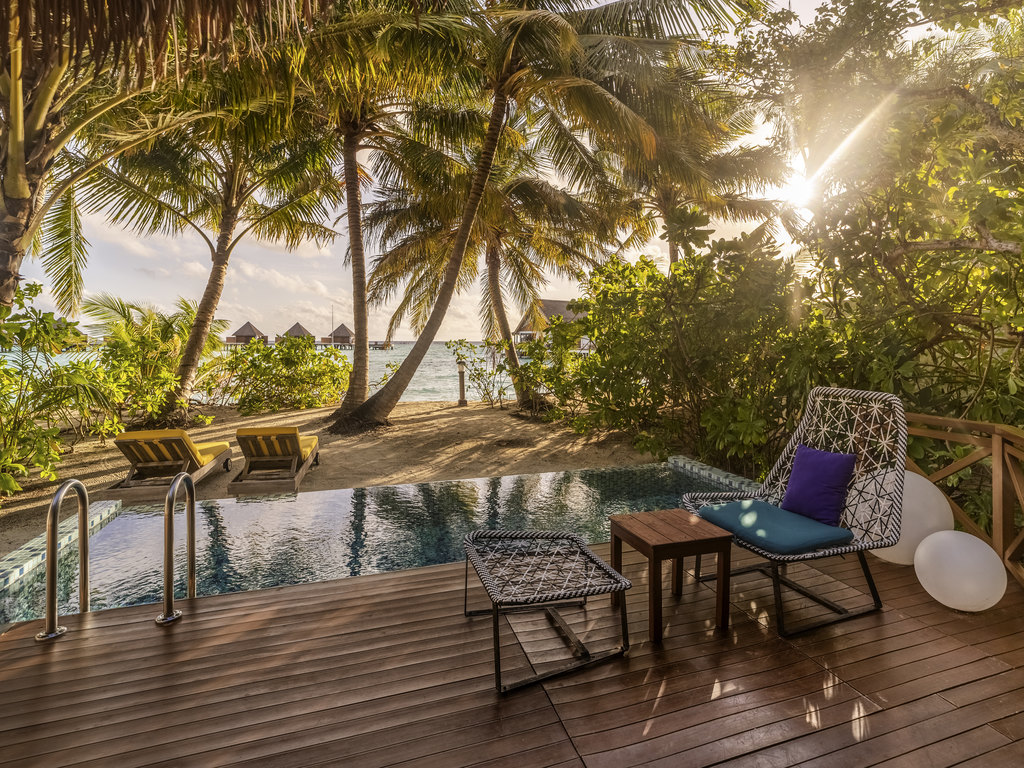 MERCURE MALDIVES KOODDOO RESORT
 Mercure Kooddoo Resorts – Mercure kooddoo Bringing stylish mid-scale accommodation to the pristine south of the Maldives. Mercure Maldives Kooddoo Resort provides one of the best value accommodation options in the spectacular Maldives. With 68 villas including 43 located over water and 25 scattered along the white sandy beach. The.
MILAIDHOO ISLAND
Milaidhoo Island Maldives  – Milaidhoo island is not just another five star resort in the Maldives, at Milaidhoo, we like to do things differently: it's called reinvented luxury. We don't think of our guests as holidaymakers but as storywriters, crafting their dream holiday, and this is where your story of a small island begins. Opened…
NIKA ISLAND RESORT & SPA
Nika Island Resort & Spa is situated on Kudafolhudhoo Island in North Ari Atoll, just 25 minutes by sea plane or 90 minutes by speed boat (75Km from Ibrahim Nasir International Airport). The resort is exclusively designed by Italian architectures to be the only resort in the Maldives with full privacy for its clientele; each.
NIYAMA MALDIVES
40 minutes by seaplane from Malé, an oasis of sophisticated escapades. Stand-alone studios, luxury a given. Marine activities, literature, music, cuisine – day/night, sunrise/sunset. 24-hour LIME Spa. Aqua-adrenaline. Games and gadgets both offshore and on. Epicurean adventures and Fahrenheit sunsets. Tribal gatherings. Journeying 500 metres offshore to NIYAMA's floating restaurant and bar. The world's first underwater music club. 
NOKU MALDIVES
Noku Maldives, a heavenly place of natural beauty, is destined to inspire serenity, solitude and relaxation, offering travelers an immersive experience and live differently – watch the sunset, be barefoot on the beach, cruise on the ocean, explore the underwater wildlife or strolling the island under the tropical vegetation. Surrounded by a tranquil topaz blue.
ONE & ONLY REETHI RAH MALDIVES
Surrounded by the wonders of the Indian Ocean, One&Only Reethi Rah makes its home on one of the largest islands in North Malé Atoll. A jewel among a string of coral atolls, lagoons and white sands.
OUTRIGGER KONOTTA MALDIVES RESORT
Discover a world of privilege and new experiences. Privilege is exclusive access to the most extraordinary experiences in the region. It's watching sea turtles from the comfort of your private infinity pool, and the smell of a freshly cracked coconut hand-delivered to your over-water villa. Outrigger Konotta Maldives Resort rests within the crystal waters.
OZEN BY ATMOSPHERE AT MAADHOO
Amidst the exotic turquoise hues of South Male Atoll lies the tranquil island of Maadhoo; home to the FIRST LUXURY ALL-INCLUSIVE Resort in the Maldives – OZEN by Atmosphere at Maadhoo! Having opened its shores to the world on 15th July 2016 – OZEN by Atmosphere offers the discerning traveler a uniquely exclusive holiday plan.
SHANGRI-LA'S VILLINGILI RESORT & SPA MALDIVES
Located south of the equator on Villingili Island, on the southern-most tip of Addu Atoll, Shangri-La's Villingili Resort and Spa offers guests a stylish and luxurious experience in a spacious, and boutique-style environment. The natural dense vegetation of the island sets it apart from many other Maldives resorts. The three-kilometre-long island features 12 hectares.
SHERATON MALDIVES FULL MOON
Sheraton Maldives Full Moon Resort & Spa -Welcome to a world of golden sunshine, fine dining, water sports and entertainment, topped off with warm Maldivian hospitality on our own private island just 15 minutes by boat from Malé Airport. Make yourself at home in 156 guest rooms and 20 Ocean Villas furnished in tropical style.
SONEVA FUSHI RESORT & SPA
LOCATION Soneva Fushi, the first "Robinson Crusoe" style hideaway in the Maldives, is set on the privately owned tropical island of Kunfunadhoo in Baa Atoll, the latest UNESCO Biosphere Reserve. The resort can be reached by a scenic 30-minute sea plane flight direct from Male International airport or for guests scheduled on evening flights by.
SONEVA JANI
Soneva Jani – soneva jani maldives ; Crystal clear waters, white sand beaches and a breezy tropical climate. Welcome to Soneva Jani. Arriving by our private seaplane from the international airport in Malé, you glimpse the string-of-pearl islands– the breathtaking rings of islands that make up the Maldives – their gleaming ivory sands contrasting with.
SUN AQUA IRU VELI MALDIVES
Sun Aqua Iru Veli – Deliciously laid-back, irresistibly stylish – the new Sun Aqua Iru Veli serves up island indulgence with a playful twist. It occupies Aluvifushi, a truly private island for guests only. Indulge in a fresh take on your favourite Maldivian brand, featuring everything you love about Sun Aqua with a little extra flavour.
TAJ EXOTICA RESORT & SPA MALDIVES
Taj Exotica Resort & Spa spreads idyllically along a pristine beach and the serene lagoon. The award-winning resort, now re-launched, seamlessly extends the magic of the island's blessed natural beauty in its design even as it offers the finest contemporary luxuries and services. Taj Spa, an authentic Indian spa, offers a range of signature wellness.
THE ST. REGIS MALDIVES VOMMULI RESORT
Nestled between verdant rain forest and white-sand beaches on a private island, The St. Regis Maldives Vommuli Resort overlooks the alluring waves of the Indian Ocean. Boasting refined furnishings and island-inspired design, each of the 33 on-land and 44 overwater villas promise picturesque ocean or garden views from private terraces and pools. Explore the tropical.
THE SUN SIYAM IRUFUSHI
Located a 45-minute scenic seaplane ride from Male in the unspoiled Noonu Atoll, Iru Fushi Beach & Spa rises like a pearl out of the Indian Ocean. Set within 52 acres of white sands and exotic flora, here guests are immersed in a timeless culture. From the intuitive detail and personalised service that creates.
TROPIC TREE MALDIVES
Tropic Tree Hotel Maldives is an affordable charming hotel located in the island of Gulhi Maldives. The hotel with 10 double rooms and one suite is just 21km away from the Ibrahim Nasir International Airport, Malé, Maldives. A stay at Tropic Tree Hotel Maldives will be a perfect opportunity to experience a truly unique Maldivian.
VELAA PRIVATE ISLAND MALDIVES
Velaa Private Island is the realization of a dream to create a 'beyond luxury' ultra-exclusive boutique hideaway. This unique destination was developed to embody the very best of this unique archipelago, bathed by azure skies in the aquamarine waters of the Indian Ocean. The name of this private retreat, an elegant fusion of Maldivian culture with contemporary luxury, means.
VELANA BEACH HOTEL
Elegant in design, intimate in feel; your room awaits you. Posh and spacious, the suites at Velaana were designed with your comfort in mind and are fit for families or even couples celebrating their love. All rooms are equipped with free Wi-Fi, air conditioning as well as hot and cold water. Located on the beachfront.
VICEROY MALDIVES
A true haven for the discerning adventurer, Viceroy Maldives provides innovative levels of seclusion and luxury set within a spectacular locale. The resort leaves no detail unanswered; with Viceroy's unparalleled service complementing perfectly designed elemental interiors and carefully crafted lounge areas. Five dining venues, including the alluring, Middle Eastern-inspired décor of the central Treehouse.
W RETREAT & SPA MALDIVES
Welcome a private island and luxury playground in a wonderland of white sand beaches, turquoise lagoons and breathtaking reefs. Pamper yourself with lavish Maldivian living. Unwind at the innovative AWAY® Spa. Go gourmet at our six eateries. Explore the world beneath the waves at DOWN UNDER. Experience something out of the ordinary. 
WESTIN MALDIVES
Westin Maldives Resort – The Westin Maldives is the preeminent well-being Haven in Maldives to relax and rejuvenate guests through Heavenly sleep and authentic culinary experiences in an immersive playground. All elements of the resort's design take inspiration from the natural environment from the use of natural materials. An aerial view of The Westin Maldives.
COCOON MALDIVES
Cocoon Maldives Is a private, rustic and romantic island, in a beautiful, untouched corner of the Maldives. A world away from the stresses of everyday life, The place to relax, curl up, and spend some quality 'us time'. Adults only island, targeting couples, honeymooners.